Here is an interview I conducted in late 2005 with Quinn Harris, a bandleader, writer & arranger hailing from Riverside, CA. I knew about Quinn from various independently released records he had done. All of which were phenomenal and rather obscure, even to seasoned soul music collectors. As I was moving West, I stopped by Riverside on my way into Los Angeles and got some words. My friend, freelancer Brian Webb, transcribed and wrote the piece.
The piece has just been printed in the latest Wax Poetics magazine (#26: THE HIP HOP ISSUE). They did an amazing job with the photos we submitted. Here I will include some extra photos I took of Quinn, and some more goodies from his photo album.
READ THE UNEDITED VERSION HERE
Quinn drives a Jaguar, but likes to cruise around town sporting a crisp Member's Only jacket on his Vespa.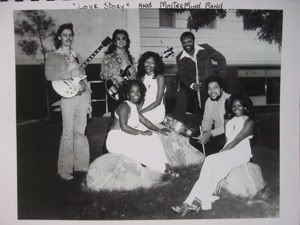 Here is a photo of Quinn's project "The Love Story". The group never recorded.
Detail taken from the LP cover to Devonne Armstrong's solo LP.